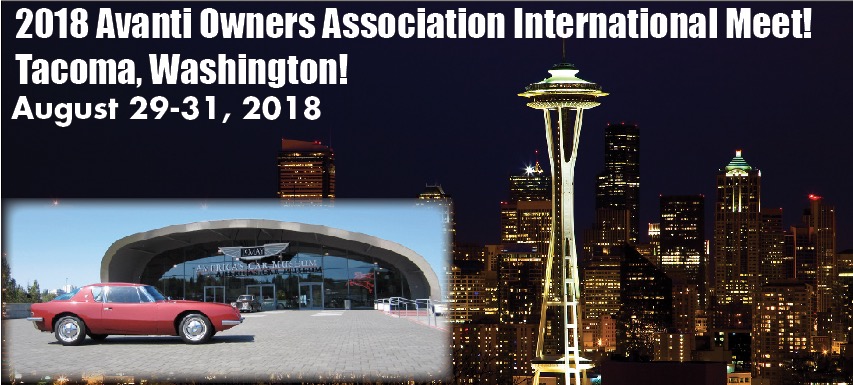 Annual Avanti Meet to be held in Tacoma, Washington in 2018
Club Avanti Northwest cordially invites all Avanti members and Avanti automobile owners to discover the Tacoma/Seattle area attractions and the natural beauty of Washington State in 2018.
The Avanti Owners Association International Meet takes a western stop next year, August 28 through September 1, 2018
Make Tacoma the "Place to be seen in 2018".
Official meet ONLINE registrations, tickets, banquet and Avanti concours or display:
2018 Tacoma International Meet Registration
Or print and fill out a paper registration form and mail to the AOAI:
2018 Tacoma Registration mail-in form
Host hotel: The Best Western Plus Tacoma Dome
$129 Special room rate for AOAI members, just mention AOAI/SDC when booking your reservation.
Book by calling 1-253-272-7737
Please specify SDC/AOAI to obtain the discounted rate at the Best Western Tacoma Dome, (253) – 272-7737.
---
1963/1964 Avanti Authenticity Judging criteria: Authenticity Judging criteria
1963/1964 Avanti Authenticity Judging registration: Authenticity Judging application
---
Questions/Comments/Concerns – please contact
John Hull:  avantifromct@aol.com  Or jhull@aoai.org
PHONE:     (727) 656-2868
---
2018 AOAI International Meet Tentative Events
Scheduled Meet Dates/AOAI Events
Tuesday, August 28, 2018
– Early Registration
– Hospitality Room Open
Wednesday, August 29, 2018
–  Registration
–  Hospitality Room Open
–  AOAI Board Meeting
–  AOAI Authenticity Seminar
–  AOAI Chapters President Lunch
–  AOAI Judging
Thursday, August 30, 2018
– Registration
–  Hospitality Room Open
–  AOAI Judging
–   Possible Museum of Fight Tour
Friday, August 31, 2018
–  Judging Avanti Class -!- Hospitality Room Open
–  Possible Pike Place/Space Needle Tour
–  Possible Museum of Glass Tour
–  Final Judging
– AOAI Banquet
Saturday, September 1, 2018
– LeMay Marymount Annual Car Show